Keren David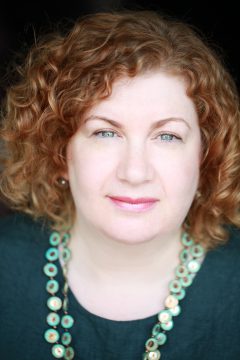 Keren David started in journalism as a teenage messenger girl, spending a year running errands and making coffee before turning down a place at university to become an apprentice reporter. She worked as a news reporter and feature writer on local and national papers in London and Glasgow, and also taught a course in handling media attention for residents of Lockerbie as they prepared for the first anniversary of the Lockerbie disaster. Keren worked as an assistant news editor at The Independent and as a commissioning editor on the paper's Comment Pages. In 1999 Keren moved to Amsterdam, where she studied art history and worked as Editor in Chief for photo-journalism agency The Cover Story.
Keren returned to north London in 2007, with her husband and two children. She wrote her compelling debut YA novel, When I Was Joe, in five months while taking a course in Writing for Children at City University. Keren is now a Visiting Lecturer at City, on the MA Creative Writing and Publishing course. She is also a Features Editor at the Jewish Chronicle.
When I Was Joe won five regional awards, voted for by teenage readers, was nominated for the Carnegie Medal and the William Morris award, shortlisted for the Branford Boase award, the UKLA award and highly commended for the Teenage Booktrust Prize. It was listed as a White Raven 2011 (awarded by the International Youth Library to books which deserve worldwide attention).  When I Was Joe is the first in a trilogy, along with Almost True and Another Life.
Keren's standalone novel Lia's Guide to Winning the Lottery was nominated for the Carnegie Medal and is being developed into a musical with Perfect Pitch. Salvage, Keren's third standalone, was shortlisted for the 2015 Bookseller YA Book Prize, The Romantic Novel of the Year award, was picked as one of the Telegraph's 40 best YA books of 2014 and was nominated for the Carnegie Medal. In France, as Te Retrouver (Hugo et Cie) it was nominated for Les Incorruptibles prize.
This is Not a Love Story (Atom, 2015) was long-listed for the UKLA award and nominated for the Carnegie Medal. Cuckoo (Atom, 2016) was nominated for the 2017 Carnegie Medal. She has since published The Liar's Handbook (Barrington Stoke, 2017), Stranger (Atom, 2018), True Sisters (Barrington Stoke, 2018) and The Disconnect (Barrington Stoke, 2019). Her next novel, What We're Scared Of, will be published by Scholastic in January 2021.
Photo credit © Faye Thomas
Follow Keren on Twitter @Kerensd