The Beach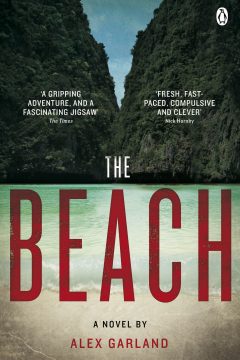 Alex Garland
International publishers
Rocco (Brazil), Alma (Bulgaria), Linking (China), Yilin (China), Celeber (Croatia), Volvox Globator (Czech Republic), Den Grimme Aelling (Denmark), Atlas (Netherlands), Varrak (Estonia), Otava (Finland), Hachette (France), Mare (Germany), Odysseas-Vivliopolis Abee (Greece), Miskal (Israel), Cartaphilus (Hungary), Mal og Henning (Iceland), Bompiani (Italy), Aoyama (Japan), Artist House (Japan), Osaka Kyoiku (Japan), Dae San (Korea), Janis Roze Apgads (Latvia), Cappelen Damm (Norway), Wydawnictwo (Poland), Bertrand (Portugal), Azbooka-Atticus (Russia), Magnet (Serbia), Motyl (Slovak Republic), DZS (Slovenia) Circulo de Lectores (Spain), Ediciones B (Spain), Natur och Kultur (Sweden), Matichon (Thailand), Koridor (Turkey), Branch Establishment 'Nora-Druk' (Ukraine)
Richard lands in East Asia in search of an earthly utopia. In Thailand he is given a map promising an unknown island, a secluded beach – a new way of life. What Richard finds when he gets there is breathtaking: more extraordinary, more frightening than his wildest dreams.
But how long can paradise survive here on earth? And what lengths will Richard go to in order to save it?
'The Beach is fresh, fast-paced, compulsive and clever….it has all the makings of a cult classic' – Nick Hornby.