As Doha Said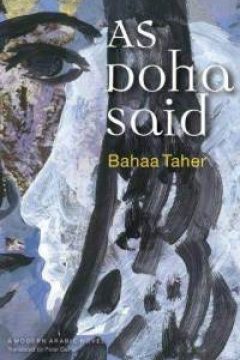 Pub date
15th December 2008
Original publisher
The American University in Cairo Press (Egypt)
(First serialised 1985, first translated and published in one volume 2008)
In Egypt a new era has dawned, but the dawn has taken an ominous turn. President Gamal Abdel Nasser has just proclaimed the first in a series of nationalization decrees, the stock exchange has shut down, and its parking attendant, Sayyid, is staring at penury. Across the street, the office of the Ministry's Supervisory Board of Administrative Organization is engulfed in an eerie silence, and the narrator, one of the two remaining fulltime occupants of that nearly defunct government office, has fallen desperately in love with the other, Doha-forceful, erudite, and, a complete enigma.
The narrator helps Sayyid find a job in the janitorial staff of the Ministry and then watches in amazement as he pursues avenues for career advancement and political participation that would never have been open to him before the Revolution, avenues that the narrator himself has lost interest in. And soon he is thrown much closer together with Doha: a ministerial study grant comes through that enables them to attend an administrative training program in Rome, and there Doha reveals to him other aspects of her mysterious nature, including a spiritual bond to the Egyptian goddess Aset, before suddenly and inexplicably cutting him adrift.
As the narrator struggles with rejection, we glimpse some of the ills of the post-revolutionary order: suppression of freedoms, corruption, ideological witch hunts, a disastrous intervention in Yemen. But As Doha Said is less about a revolution's dreams turned sour than about awakening. A sophisticated, richly textured novel, it combines a realistic weft of events and deftly depicted characters that undergo subtle mutations-and, indeed, amputations-with a warp of mythical and historical iconography, a weave that allows the author to explore such themes as apathy and despair, courage and self-sacrifice, ambition and temptation, disillusionment and political faith, and, above all, commitment and betrayal, and to lift them to a universal, almost metaphysical level.